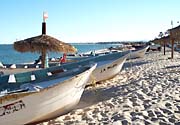 Local Pangas
U.S. Office Phone:
213-929-5093
U.S. cell 626-665-7428
Mexico Office Phone:
(01152) - 686-577-1518
Mexico cell:
(01152) 1-686-573-1756
Email:
sanfeliperentals@gmail.com
or
info@sanfeliperentals.com

Temperatures
Max. 47° C (117° F)
Min. 3° C (38° F)
Ave. 22° C (72° F)
Location
31° 03´ Latitude
114 ° 50´ Longitude
Being a seaside resort, watersports abound. San Felipe first attracted interest across the border because of the Sea of Cortez's rich harvest of fish and there are several fishing charter services available (we can make your reservation for you). Or if you've towed your own boat down, there are a few boat ramps available, one just a few minutes from the beach condos.
Swimming is a pleasant pastime. There are the Banana Boats , always ready to take you on a bouncing ride across the bay. Jet Skis can be rented on the beach in town if you want to explore the bays and beaches. Or if you bring your own kayak, the waters off any of the beaches are always inviting. Explore the many hidden bays in the area. Keep in mind for any water sports, it is important to keep an eye on the tides.
Hunting for shells is a popular local pastime and there are several beaches that have a reputation for generosity in this enterprise.
For the adventurous, the famous Valley of the Giants is just a mere half hour drive south of town. There you can walk among the giant cardón cactus. Several ATV rental outlets in town are ready to rent you a four-wheeler if you want to pioneer the countryside. Or if you'd like a slower, more serene pace, horses can be rented on the beach. At certain times of the year you can find ultra-light planes barnstorming the local beaches.
Mike's Sky Ranch is two hours from town. A rustic ranch-style hotel in the mountains, it is a favorite getaway during the hot summer months.
San Felipe has a wide variety of nightclubs, bars and restaurants. Everything from Chinese food to French cuisine. If you have a gambling itch, the Caliente is a local Sports Bar where betting is encouraged on the various events airingte televisions.
Marina Boat Launch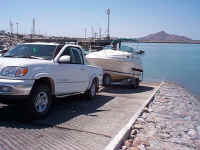 A new coming attraction to San Felipe will be a Golf Driving Range with snack bar.
Dune buggy desert tours are available. And if you find Hot Springs an alluring prospect, there are thermal pools in Puertocitos, 56 miles to the south.
If you are in the mood for shopping and would like something made by local craftspeople, try the town's curio shops and street vendors for bargain prices.
You can keep track of your stocks, do some on-line trading or keep your email connection alive from any of the town's three internet access locations.
Need your computer repaired? Try Shadetree Computer Services.
Want to keep your daily golf addiction fed? A Driving Range recently opened and is now in full-swing.
More Photos on Facebook