The Town of San Felipe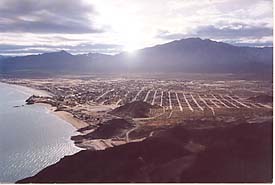 The history of San Felipe, from the point of view of a community, does not stretch back into the romantic mists of unrecorded time, as some would like to think. The first European to set foot on the sands of what he called San Felipe de Jesus, was the Jesuit Padre Juan de Ugarte, in 1721, who was exploring the inner coast of the Baja. Twenty five years later Father Fernando Consag, another Jesuit, mapped the area and marked the location of the bay.
Nothing much happened in the area for the next hundred years or so. Then, in 1855, Guillermo Andrade leased 30,000 hectares around the bay. In 1876, he made a contract with the Federal Government to colonize the area, but died before he could complete his project.
In 1916, Coronel Esteban Cantú Jiménez began the first of three expeditions to San Felipe. Problems and supply shortages aborted the first two journeys, but the third one proved was successful. It was Governor Cantú's engineers who built the first car-access road to San Felipe.
Cantú's administration permitted precious metal prospecting in the area and that is what attracted the first white 'settlers'.
The Arches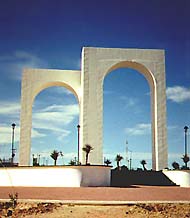 In the 1940's, ex-President of Mexico Aberlardo Rodríguez, wanting to increase tourist activity in the area, graded and paved Cantú's by then challenging road. At the same time, his brother José María Rodríguez Luján, who owned over 4,000 hectares of San Felipe, established the Port of San Felipe and other enterprises.

Since then, San Felipe has been growing in spurts as investors begin to recognize the unparalled beauty and retirement potential of the area.
Most areas now have electricity. Telephones, both cellular and land-line, reach many miles north and south of the town.
In San Felipe, you can find almost every amenity offered by larger communities. There are laundri-mats, beauty salons, video rental stores, upholsterers, glass repair shops, sign painters, appliance repairs, lumber yards, doctors, dentists, even a chiropractor.

Temperatures
Max. 47° C (117° F)
Min. 3° C (38° F)
Ave. 22° C (72° F)

Location
31° 03´ Latitude
114 ° 50´ Longitude
U.S. Office Phone:
213-929-5093
U.S. cell 626-665-7428
Mexico Office Phone:
(01152) - 686-577-1518
Mexico cell:
(01152) 1-686-573-1756
Email: info@sanfeliperentals.com
or
sanfeliperentals@gmail.com
More Photos on Facebook